Are Your Workouts Causing Back Pain | Here's the fix!
Do your workouts leave your back wrecked, tight and achy?
This post is for you!
It's one thing to deal with nagging low back pain after going a little too heavy at the gym, but what do you do if you leave the gym feeling fine but 24-48 hours later, your back is killing you? 
You're left frustrated, not really knowing what exercise you should be staying away from or whether you should be exercising at all since the pain keeps coming back.
In today's video, I'll share with you 4 ways to get to the bottom of why your workouts are causing so much back pain to begin with and what you can do RIGHT NOW to see a big change in how your lower back feels after working out!
Want to learn how I used exercise to cancel my back surgery after a ruptured L5-S1 disc and live chronic pain-free today Check THIS OUT
Why Does My Back Hurt After Working Out?
I cover 4 POWERfFUL reasons your back hurts after working out but here are 3 bonus ones. 
Muscle Fatigue and Overexertion
One common reason for post-workout back pain is muscle fatigue and overexertion.
When you work out, especially if you're lifting weights or doing intense exercises, your back muscles can become tired and strained.
It's kind of like pushing your muscles to their limits. So, a little discomfort is normal, but if it persists, it might be a sign to dial back the intensity.
Improper Form:
Using improper form during exercises can put extra stress on your back.
Your body is a well-balanced machine, and when you're not in the right position, certain muscles, including those in your back, can take a beating.
Make sure to pay attention to your form and the weight you're using to ensure you are locked in to your form and technique!
Inadequate Warm-Up or Cool Down
Sometimes, we're so excited to jump into our workouts that we forget to warm up properly or cool down afterward.
A lack of warming up can leave your muscles tight and more susceptible to strain.
Skipping the cool-down can also make your muscles stiffen up.
So, remember to take a few minutes to warm up and cool down before and after your workouts. Your back will thank you for it!
Here is a video where I cover a solid warm-up routine! 
What are the best exercises for people with a history of back pain?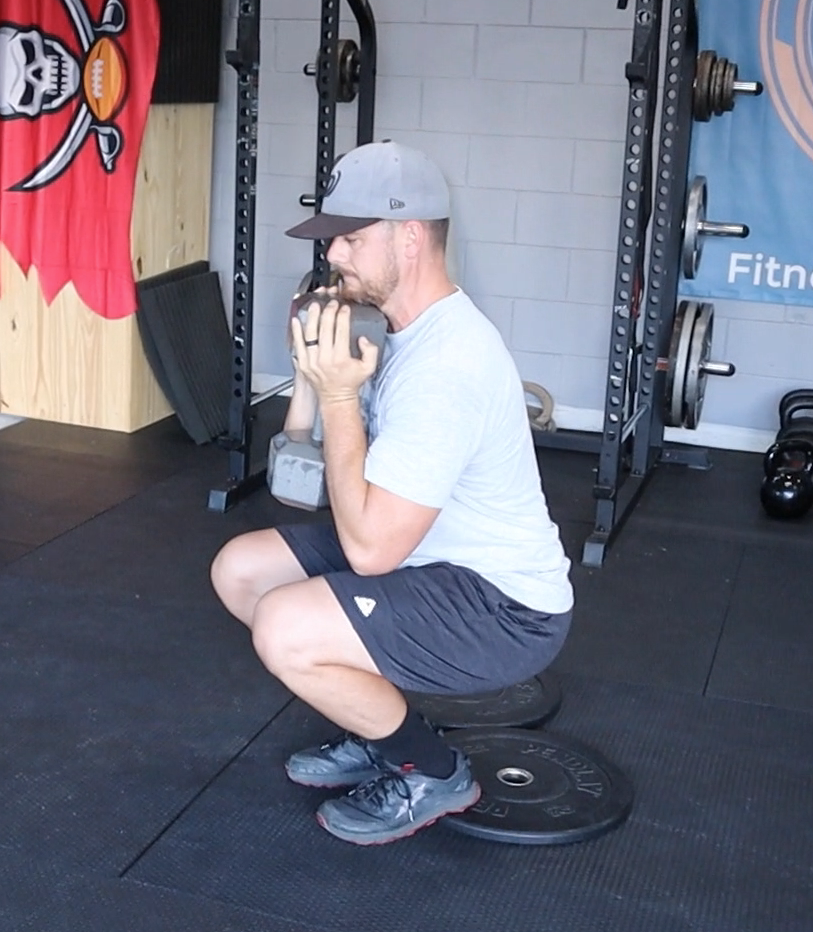 This really comes down to where you are in your recovery process.
If you are just getting control over your lower back pain and it been intense for a long time, then simple things like 
Bridges: This exercise works your glutes and lower back muscles. Lie on your back with your knees bent and feet flat on the floor. Raise your hips off the floor, creating a straight line from your shoulders to your knees. Hold for a few seconds, and then lower your hips back down.

Cat-Cow Stretch: This yoga-inspired stretch helps improve flexibility and reduce back pain. Get on your hands and knees, arch your back up like a cat (the "cat" position), and then lower your back, sticking your butt out (the "cow" position). Repeat this motion several times.

Pelvic Tilts: Lie on your back with your knees bent and feet flat on the floor. Tighten your abdominal muscles and push your lower back into the floor. Hold for a few seconds and release. This exercise can help improve your lower back's stability.

Walking: Simple but effective! Walking is a low-impact exercise that can help improve your overall fitness and reduce back pain. Start with short walks and gradually increase your time and pace.
If you are past this phase of your program, you want to look at ways to build resilience in your body with resistance training. 
There is not really a good or bad group of exercises because ti will depend on what YOU need at that point in time. 
If you're in pain and you need help starting from ground zero, getting out of pain, and back in the gym, your best bet would be to work with me one on one.