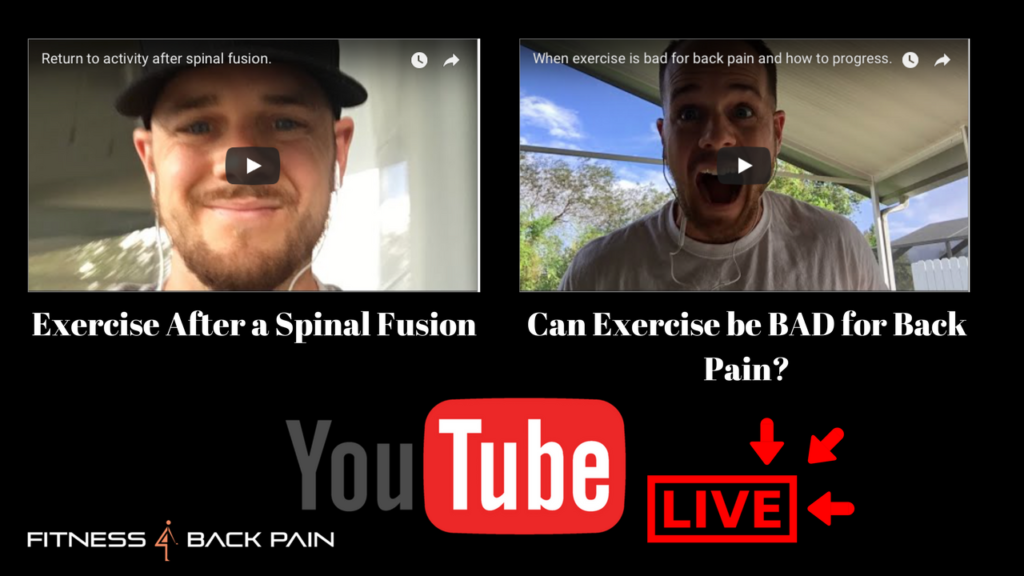 These past two weeks I have spent a little time getting to know YouTube Live while answering some recent questions I have gotten from you guys in my inbox. Some of the questions can be read about in more detail through articles I have published over the past few years. What I wanted to do is give you guys a chance to sit down with me and get my take on some of these topics with current beliefs and practices. Don't hesitate to send me your questions or leave them below here and I will make a video in response!
I get to talk with a lot of spinal fusion students on what their focus should be on when it comes to exercise before or after the operation has been done. I go into more detail HERE with a free giveaway if you have not already picked up!
Click the video below to start playing!
Exercise After Spinal Fusion
This is a topic that could go into even more detail on but here is a short and to the point position on when exercise is bad for bad backs as well as when to progress from an easier exercise to a harder exercise when you're trying to keep sensitivity down and pain under control. I have a great write up on 4 tips on progressing with back pain you can check out HERE.
Click the video below to start playing
Can Exercise be Bad for Back Pain and When how to Progress Safely.
Thanks for checking them out!
Don't forget to leave a comment below with your question and I will work on getting more of these videos out!
Talk to you soon,
William