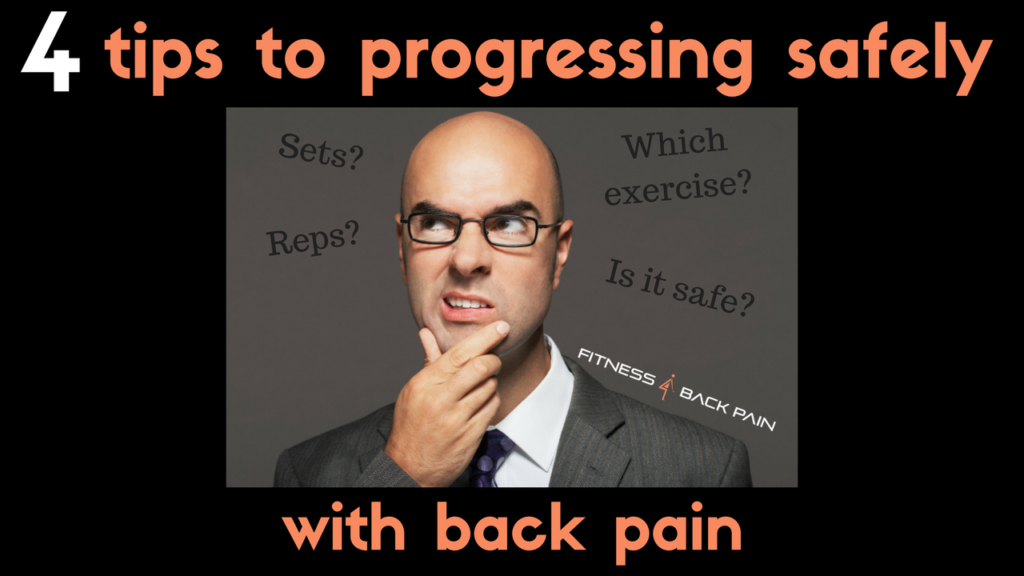 When it comes to lower back pain and following an at home rehab program, I have narrowed it down to 2 things that play a major role in the amount of success most people either see or don't see.
Number 1: Not knowing if what they are doing is the BEST thing for them.
Number 2: Not knowing when it is safe for them to progress to the next "level" or exercise.
Today, I want to shed some light on a few areas that need to stay in sharp focus if you're going to venture out on your own and attack this back pain once and for all. My focus for today is for you to leave with a little more confidence in whether or not you are on the right track and progressing safely. If you're still not sure if this article is for you then answer this question. Do you find yourself thinking or saying any of the things below?
1 – How do you know which exercises to start with if my lower back hurts?
2 – When should I try a more challenging exercise? How do I know if my lower back is ready to progress?
3 – How do I know if my lower back is ready to progress?
If so, you are at the right place!
There are a lot of different factors that are in play when you're dealing with a chronic back issue. You have ups and downs, good days and bad days. Some days it feels like you have been completely healed of your pain while other days make you feel surgery is probably the favorable decision. I get it. Believe me, I really do get it.
I remember when I was at my worst, I did a lot of "rehab hopping". I would do this exercise and stretch for a week or so and when I didn't seem to see anything changing I would switch it up. This would continue on for years and I always felt like I was spinning my wheels. Never really knowing if what I was doing was actually going to work. To be honest with you the majority of what I was doing
To be honest with you, the majority of what I was doing was right I just didn't have enough skin in the game to give me the confidence to feel I wasn't wasting my time. I remember paying for my first form of "online coaching" for my lower back. At first, I was frustrated because It was all the stuff that I had tried before (maybe not the way they presented it) but the same none the less. Regardless, I stuck with it and followed it all the way through and for once I felt like I had seen some noticeable change and for once I felt CONFIDENT in what I was doing. For me personally, I chalk it up to the $100+ investment I made for the course. As simple as it was, I trusted the coach and had spent my hard earned money. I was not going to waste my money!
I tell you that story to hopefully encourage you. I know where you are at and today I want to try my best to help you plant your feet a little deeper into what you are currently working through.
How do I know when it's safe to progress with my exercises and rehab?

1 – When you have mastered the fundamentals of breaking your own pain cycle.
I am dead serious about this first one. It's the most important one of them all. Because everything else you do whether with your trusted physio or on your own is built off of these key fundamentals. Before anything else you have to make sure you are aggressively attacking your daily habits that are keeping you from healing and getting the most out of your rehab. This is so important I created an entire course devoted to the top areas that need the most attention and HOW to target those areas step-by-step.
Some of these key areas consist of:
Breathing properly
Learning to maintain and move with a neutral spine.
Hip hinging during the most overlooked activities and movements you do daily.
But most importantly
How to safely and successfully build habits around doing these things on a daily basis.
Before piling on stretches and strengthening exercises, you have to make sure you are not un-doing everything you're trying to correct throughout your day. A perfect example of this is someone who spends most of their time in flexion. Well, if you're looking to reverse the damage that's been done because of the amount of time spent in flexion you have to spend more time not only in extension but reducing the amount of time you're in flexion as well as doing the correct exercises that will help stabilize and strengthen this new posture.
I hope I didn't just lose you…
This is my number one spot for dishing out all of the first stops along your journey of gaining control of your pain. Check it out
2 When you have mastered and are implementing the "Core Locking" technique with daily movement (not just with exercise).
I have dubbed this one of the missing links to a lot of the "core training" tutorials you see floating around the interweb. Nobody seems to be talking about it.
For this one, I wanted to explain it through video so you can really get an idea of what I am talking about. I'll also demonstrate how to practice the "core locking" technique so you can start implementing it into your current core training program.
Check out the video below!
3 Once your pain decreases or you're able to advance without an increase in pain.
I'll start with an example: If your working on planks and you're currently doing the planks on your knees and can work up to 1-minute pain-free for multiple sets (let's say 3) and can maintain this exercise for a week or two without pain. This is a good sign you're ready to experiment with a more advanced plank progression.
To take it even further…
Let's say you move into a single leg plank (one knee is still bent and the other leg is straight) and your lower back isn't getting weird (increase or sudden onset of pain) or starting to get irritated with your leg being extended and you can maintain this on both legs for the given time, then progressing to the next level would be a safe bet.
even further…
Let's say you do the single leg plank for a week with no pain and now you want to try straight leg planks.
Assuming ALL cues are being done.
1) Glutes engaged
2) Pelvic neutral
3) "Core Locking" is being done
4) De-Shrugging your shoulders and engaging your lats
Even with all of these your only able to do 1 set of a 30-second hold. That's fine. Stick to the 30 seconds and push for a longer time at the end of the week or following week. Work up to doing all 3 sets for the full minute before moving on.
One very important point I want to make about being "pain-free".
Just because your symptoms are dramatically reduced or are gone DO NOT push it. De-sensitizing your lower back is something that you earn. Which means you have to be patient and be anal about how you're doing these exercises and how fast you are progressing. Give your body time to react to the change and learn the global core activation needed to do these exercises well. Being pain-free is not a healthy goal to set when starting a rehab program. Work towards gaining control, improving mechanics and over time reducing the amount of pain permanently.
Bonus Article!
This is a great short read with a few refreshers on the difference between good pain and bad pain with exercise. I love the points on Listening to your body and allowing yourself to recovery! Check it out

4 – When you DON'T have pain with weight training.
There is no other way of putting this other than being straight forward. If you're still having pain during a workout or after a workout, your stuff is still broke.
YOU are not broken just the way you are moving and loading your body.
Most people trying to sell you a quick fix will give you a "7 days to being pain-free" or "One tweak to deadlift/squat pain-free" just to get you to click or buy. You can't keep falling for this stuff. It takes time to really heal from a chronic lower back issue. For some, 6 weeks is plenty of time and for others they need 12-24 weeks of non-loaded work just to get to the point where they can start introducing loads safely and pain-free. Again, it all depends on where you are coming from and what your back pain history looks like.
Side note: When I say " it depends on YOUR back history". What I mean by that is what procedures have you had done surgically (these can take 12-24 weeks to recover), how long have you been dealing with the pain without treatment (if you waited 6 years to even attempt to treat the pain you have a lot of rewiring and learning to do so be patient). These are just 2 examples, not definite time frames or the only situations.
I say all this to give you a little perspective. If you care more about being able to surf this weekend than taking the time off to start working on your root cause than you're in for a long road of pain. You have to put your hobby goals, fitness goals, strength goals or any other goals that you would have to push through the pain just to achieve and start focusing on REHAB goals.
Examples of rehab goals:

-Commit to 6 weeks of daily hip mobility drills. Nothing more nothing less.

-Commit to 12 weeks of relearning how to incorporate Core Locking into your daily life and rebuilding the use of your core from the most fundamental exercise up.

-Take a few months off from the gym and focus on learning out to control your movement (hip hinging, maintaining and moving with a neutral spine etc.)
I never thought I would see the day where I would take a whole 24 weeks off from lifting. Well, I did and have done it more than once over the past few years. Yes, I lost strength. Yes, it was really hard but it's worth more to me to be able to play and lift my kids with the least amount of pain then it is to make sure the size of my shoulders are increasing. If strength is not your thing insert whatever it is that your choosing over taking the time to focus on healing your body.
So…
If you're back in the gym and feeling better but still have some underlying issues, back off and revisit the rehab program you were doing. Your body is not ready yet. For some, taking the exercise out completely isn't what you need. Focusing on finding that sweet spot where you can load the spine but still maintain control over your pain is where you need to stay. Here you can continue to build strength but stay under your pain threshold to ensure continued healing.
We all want to know exactly when the best time to move forward is. When your working on your own, you have to be okay with potentially spending an extra week or so working on technique when in reality you could probably go ahead and move forward. You also can't be afraid to push yourself to provoke a challenge to what you have been building. Note: I would NEVER Suggest pushing through pain to finish an exercise or to move on to the next difficulty level. So apply this way of thinking to everything your doing. Way too many people are scared to do ANYTHING for fear of messing something up.
Listen to me.
If you have been cleared to resume normal activity which means you are free to start rebuilding your body, just be smart and listen to the feedback your body is giving you. If push ups hurt your lower back guess what, either your form is jacked up, you're not bracing right or your core is so weak that it can't stabilize the spine. Don't over think it just take a few steps back and correct it from the ground up.
Hope this helps!
Don't forget to share this with your friends! You never know who could pick it up and have their life changed all because you shared a post!
Talk to you later!
William
P.s I would love to chat with you in the comments about what is holding you back from progress. Tell me what you're dealing with below!