We don't really think about how our personalities can affect the way we recover or heal from injuries such as a broken leg or back pain. Some of us just do what the doctor tells us while others take things into their own hands and end up extending the healing process even further. Today I want to open up the type A vs type B personality traits and how BOTH can destroy your chances from seeing lasting back pain relief and what you can do to combat this issue.
I would consider myself a hybrid between the type A and type B. After reading through each characteristics I find myself both embracing parts of both types. After a thorough test, it was confirmed though that I favor the Type A. This got me thinking about the habits of typical Type A personalities vs Type B. I figured there has to be some kind of flaw in each that would prevent them from organically being able to master their relief plan. Not that one was better than the other but how could you improve both of these personality types recovery plan?
I want to briefly bring you up to speed on the specific characteristics of both Type A & Type B personalities.
Characteristics of type A and Type B Personalities.
You could be a Type A if:
You have an exaggerated sense of time urgency. Always racing time. Feels like anything outside of what he/she needs to be doing is a waste of time.
You are competitive
Multitasker. We truly believe writing an email, printing a document and calling clients can be done at the same time.
You have high level of stress: Over achieving usually leads to stress
You think no one can do it better then you: Most Type A's have perfected their trade or system so doing it different doesn't make sense to them
Are Impatient
You are easily frustrated
You are a perfectionists
Your incompetence fuse is short
The problem with type A's is they are intense, to-do list type people who push themselves hard to see their goals met. These types of people (*raises hand*) will push their backs too hard. Even during their recovery they will do more than they should thinking that more is better. These types of people usually see a slower healing process or go through multiple ups and downs due to jumping the gun with more advanced movements. This is me to the max! When I first started studying the McGill Method I was pushing myself with each exercises. I figured that as long as I was doing them with good form then I wasn't making things worse. In reality there would be times where my back pain was caused by the same exercises that are supposed to be helping me. I want to teach you how not to make this same mistake!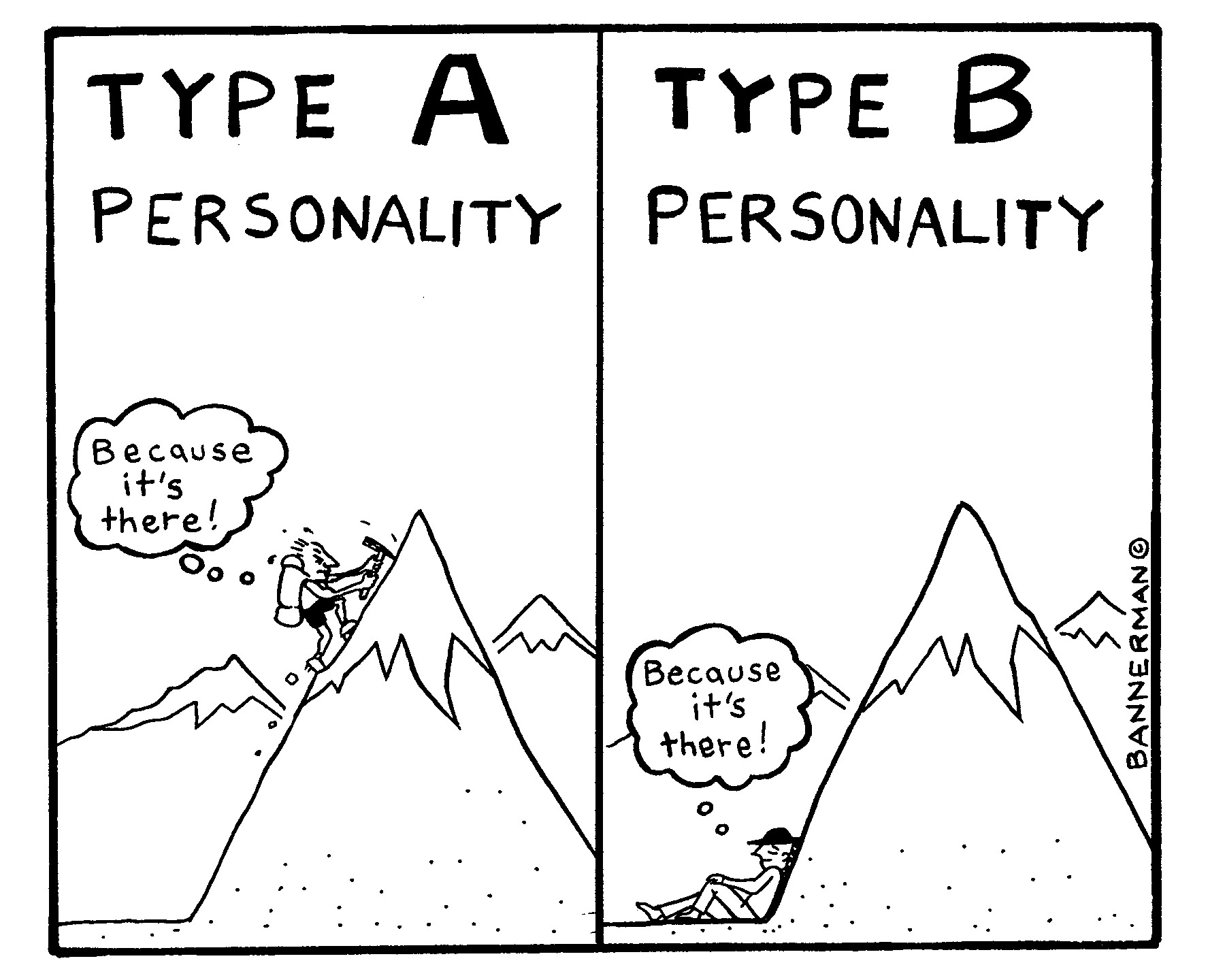 You could be a Type B if:
You tend to procrastinate: Most of your projects are done last minute
You're never really stressed
Your schedule tends to be open and flexible: It's usually not a problem changing your routine or system for someone else.
Tend to be more emotional
You typically can better handle one thing at a time
You lack urgency: You don't mind waiting or giving up your time for something less important
You are creative
Accomplishing something is more important to you than perfecting it.
The problem with type B's is that they tend to be too laid back. They don't see the urgency or the purpose in following a rigid schedule or program. If given a certain rep or set amount they will most likely do less for no real reason. These people need to make sure they stick to the plan. If it's six reps you do six reps. If its once a day then you make sure you do it once a day. Nothing less!
Both Type A and Type B personalities have their strengths and weaknesses. When it comes to back pain, both personality types can go about it all wrong. In this case one personality type is not necessarily better than the other. What's important is that both people learn to embrace there personality and make the changes necessary to see success with their back pain recovery plan.
I want to leave you with 3 mind sets that both personality types need to revisit daily.
1) The gym will always be there:
Getting back to your normal gym schedule is super important, I get it. What you have to remember is that just because you have to take 1,2 maybe even 3 months off from actually lifting weights or whatever it is you do thats fitness related. You're not going to loose your strength, endurance or skill just from taking time off. Luckily, when it comes to rehabbing a bad back you can track and measure progress weekly just like anything else. As the weeks go by you should notice your ability to handle and manage different movements with little to no pain. Take note of these improvements and count them as wins. Only introduce new and more technical movements when the old ones can be done with zero pain.
2) Don't limit your recovery time: 
You can't rush your recovery. I am the worst at this. Countless times over the past 2 years applying the McGill Method more and more into my daily life. I push myself looking to challenge what used to bring me pain. I tend to leave the gym frustrated and in more pain than I was before I went in. You have to literally be sold out for recovery and recovery only. You can't continue to do the things that caused you pain even if it is a healthy active activity. If it causes you pain after doing it than guess what. Thats the exact thing that will hold you back from progressing and one day being pain free. You have a choice. Push through the pain and continue to do whatever it is that you do and just deal with the damage later in life or take the time off now and devote yourself to your recovery so that you can get back the things you love pain free.
3) Focus on what brings relief: 
I can't stress this enough. When it comes to working out we are taught to push through pain and that pain is weakness leaving the body. In some cases this is true but rehabbing a bad back is completely different. Pushing through pain and testing your limits is NOT what you want to do. Focus your efforts on the pain free movements and positions. Don't push yourself too hard too fast with the basic recovery exercises such as the McGill Big 3. You're looking for pain free movements. If that means your doing one set of each exercises for 6 reps then so be it. Don't do more just because. Stick to that for a week and do it every day. Try for another set next week and as long as you can do them pain free then rock it out! Remember, progression is not about how much you can do or how long you can do it for. It's how you can accomplish things pain free that once caused you pain.
Hope this helps guys. Keep these three mindsets close so you can revisit them when you get discouraged.
What are you doing now that seems to be causing you pain? Let me know in the comments below!
William