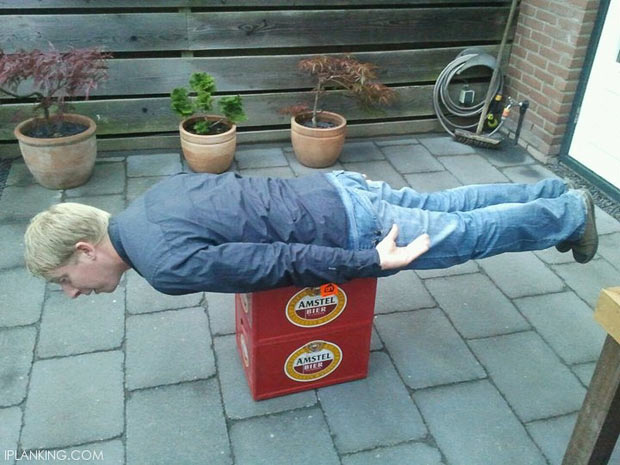 There is definitely a list of ab exercises that you need to stop doing if you have back pain. Odds are, your doctor told you to "be more active" or to "strengthen your core". What they don't tell you is that you could go to the gym and do the exact exercise that will end up putting you right back in his office or worse, his surgery table. I don't want you to fear re-hurting yourself doing the wrong exercise, so let's cover exactly what you need to know when it comes to training your abs for back pain.
Your doctor doesn't have a fat clue as to what core exercises you should do to help with your back pain, so for safe measure throw everything they say out!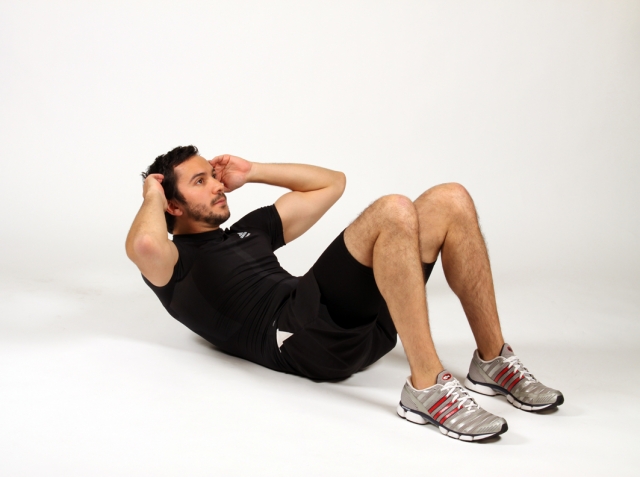 Boy, was I wrong about that one! Ever since I can remember the only ab exercises I ever did was what the big guys on TV and YouTube were doing. A couple years of that then I switched to doing zero direct core work and just relying on my major lifts to "work my core". I have had a few different theories over the years when it comes to my abs but It was far from what really worked. When it comes to back pain, you really need to understand that you are automatically placed in a different category. Sure, it would be cool to be able to plank with 90lbs sitting on my back but until I have the basics down this is only going to make my pain worse. If you're waking up in the morning with crushing back pain and walking into the gym after work with that same chronic pain, you need to make a bee-line to the furthest back corner, grab a mat and don't pay attention to what anyone else is doing. You need to reprogram what you think a good ab workout looks like and that's exactly what this article is going to teach you.
Most ab exercises consist of some kind of rotation and or flexion (crunch). This is where hundreds of people suffering from back pain are misguided by their doctors. The funny thing is, textbooks and common gym talk will tell you that strengthening the abs using sit-ups and similar exercises is what helps cure back pain but the truth is, there isn't much research out there that supports that specific claim. Unfortunately, a lot of people, including myself have used sit-ups to elevate back pain in hopes of strengthening the core. Wrong!
You have to change your thinking. I am going to tell you exactly what you need to do to strengthen the core correctly to finally find freedom from your pain.

---
This is what happens when you do them wrong
Studies have shown that if you do enough sit-ups it will actually do more damage than good. With each sit-up, your forcing a compression load onto the discs in the lower back. You do this over and over and eventually, it's going to get fed up and start giving you issues. Think of it as someone hitting your thumb with a hammer softly over and over. At first, it may not hurt but over time it's going to get worse and worse to the point where simply touching it causes severe pain. Well, that's the same thing that's going on in your lower back. Not only the compression but simply doing sit-ups and crunches does nothing for the average structure of the core. There is so much more to what actually supports your spine and keeps it aligned and pain-free. The strengthening aspect is important but the big take way is the way you do it and knowing exactly what you're training for.
So is it better to train for strength or endurance when it comes to relieving my back pain?
Endurance, endurance, endurance. I want you to NEVER think for a second that you need to increase the weight to make it harder and more worthwhile. That may be the case with other training programs but not when it comes to your core. Even pro athletes need to be under the same endurance based structure. Yeah, it's great to be super powerful for short bursts but what's going to stand the test of time? Your core doesn't need brute strength, it needs endurance. Your core is responsible for the rigidity of your spine. If your core is only good for an hour of standing and about 30 minutes of moving boxes what good does that do for you? You need to train your core to last. To have the endurance it needs to remain strong and rigid throughout the entire day. This is what prevents back disorders. It's the people who only train for strength that go out and spend a weekend in the yard and spend all day Sunday laid up in bed with a bottle of ibuprofen. At some point early in that weekend, his/her body lost its core stamina and started relying on surrounding muscles to do all the work.
The takeaway for this.
You need to be very intentional about the way you train your core to relieve your chronic back pain. Remember, the goal is not to be the strongest but to have the most endurance to stay strong, remain tight and supportive throughout the day.
How to train your abs for lower back pain relief
If there is anything I need you to really understand, it's going to be what I am about to tell you…In order to relieve your back pain, you need to train your core in a neutral position.
Do me a favor and read that 2 more times before moving on.
This means before applying the resistance or movement to either the upper or lower half of the body, your core needs to be pulled in, squeezed tight and in a neutral position. On top of that, stop holding your breath while doing your exercises! I am guilty when it comes to doing this. Knowing how to brace the core is key but being able to breathe while you brace is even more important. The "take a deep breath and squeeze technique actually is useful with some major lifts but when it comes to your core training and daily movements, it's not. You need to start taking deep full breaths while you train your core. It's going to make the exercise 4x harder but you will get 4x more out of the exercise. You see, one of the biggest issues you're having with your back pain is an untrained/improperly trained core. Even if you are super athletic, if your core has not been properly trained then it's worthless and will lead to back pain later. I have been in the gym for over 13 years, you would think I would be pain-free by now! Wrong. This is where the basics need to come back in. If I could sum up the cure for back pain when it comes to exercise it would be training for improved motor control, improving muscle endurance and training with the spine in a neutral position. That's it!  Before doing any exercises, if we were just more mindful of what's going on with our core we would get so much more out of each lift and would actually see more strength improvements than doing the opposite.
These are the exact exercises that I use.
I never for a minute want you to think that I am just pulling this stuff from left field and putting it on paper. I have over 6 years of failure and success when it comes to learning to control my back pain. These are the exact core exercises that I still use today to keep my back pain at bay.
Breathing: With each of these exercises you are going to use the exact same breathing pattern. Before starting, contract your stomach, sides and low back to the point where you feel a strong "seal" around your spine. From here you want to maintain the contraction while continuing to breathe. This WILL be difficult at first but you are building strength in your lungs and making them more efficient.
For someone just starting out learning to master these movements are key. Don't worry about getting advanced until these become second nature.
When working through back pain the key to any exercise is to understand your pain threshold. This means know when to hang it up. Back Pain is not something you just work through. The pain is something you work UP to but stop before it starts. It's all about reducing sensitivity and increasing the ability to move pain-free.
Tell me about you.
We sit at desks, work at computers, commute to work and play on our phones all day. Which one of these habits do you think has the biggest factor in your low back pain? Let me know in the comments below!
To your recovery,
William
---