Stretch (Resistance) Band Core Exercises Safe For Herniated and Bulging Discs
Herniated, Bulging, Ruptured or Fused disc? You need to do this core exercise (I love it). It's scary to be told you have a herniated, bulging, or even a ruptured disc. You feel limited and a little out of control when it comes to core training and making the right choices in the gym
You don't want to make the wrong choice and cause more pain or even worse, more damage.
Which is why I love to teach core training a little differently than most people (from a back pain perspective).
I ruptured my L5-S1 disc 8 years ago and what I have learned is that there aren't a lot of exercises that fit a broad range of people more than this core exercise right here.
Is It Safe To Exercise With A Herniated Disc or Bulging Disc?
I want to take the time here to encourage you when it comes to what your doctor or MRI has told you and the reality of what you are capable of. I am living proof that despite a bad diagnosis, MRI, and terrible news from a trusted medical provider.
You are stronger and more capable of exercising WITHOUT pain then you have been lead on to believe.
Yes, it is safe to exercise with a herniated disc and in fact if you ever want to overcome this herniated or bulging disc diagnosis you need to train your body and core to get stronger. The best place to start is getting help navigating the right and wrong exercises for a sensitive low back. When it comes to core training I cant stress enough starting from the most fundamental level and building up from there.
If you are looking to follow a program that was specifically designed for Herniated, Bulging, or even Ruptured Discs. Check out Core Essentials [CLICK HERE]
How Do You Strengthen Your Core With a Herniated Disc?
The best place to start is to learn a healthy pain-free position for you. Once you can establish that it's about finding the right core exercises that fit where you are. From there you can build on endurance and intensity when your body is ready and it responds to the exercises positively.
Keep your focus on neutral spine work to establish a solid foundation and the ability to build awareness around your body. We often just move, bend and twist without much thought (which is fine) but when it comes to strengthening your core with a herniated disc or bulging disc we need to minimize the chance of making ti worse and build strength around better habits and positions!
What Exercises Should I Avoid With a Herniated Disc Or Bulging Disc?
For right now the exercises you want to avoid with a disc issue are ones that will make the bulge or herniation worse (duh William I need more then that!)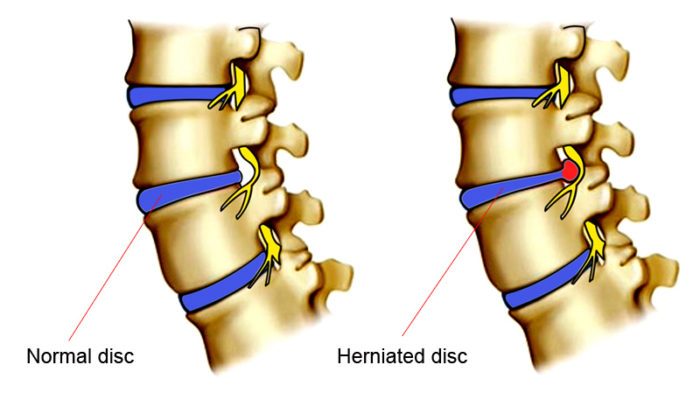 For the majority of the population with herniated or building disks the disc moves towards the back of the body. So if you think about it more excessive non-essential bending in the gym could cause flair-ups or more symptoms from this herniation or bulge. So be caustious with all movement. Do you have to deadlift today? Do you have to bend over to put plates on the barbell or can you get down on yoru knees and spare the spine while you work on reverseing this issue?
This creatively about how often you bend over both in the gym and out of the gym and make it a game to see how you can set your day up to spare the spine more while you work towards building a stronger more resilient self.
Looking for more herniated disc or bulging disc friendly core exercises to try out?
Check out this video [CLICK HERE]
What is has been your most herniated or bulging disk friendly core exercise to date? Let me know below!