The best way to stretch the Quadratus Lumborum is actually extremely doable for anyone willing to do a little self-exploration. The Quadratus Lumborum (also known as the QL) is a rather sneaky set of muscles. Nobody really talks about them unless it's too late and you're sprawled out over a PT table being put in positions you never imagined you would ever be in.
That's right, the Quadratus Lumborum is a muscle that the average back pain sufferer needs to get checked out to make sure it's not the reason you're going through your day popping Tylenol.
My goal for you today is to be able to identify the Quadratus Lumborum muscle, learn to self-test for a potential weak QL muscle along with addressing potential trigger points with your tight QL muscle.
*This article was updated with new strategies, techniques, and insights June 2020.
The Best Way To Stretch The Quadratus Lumborum Muscle (2020)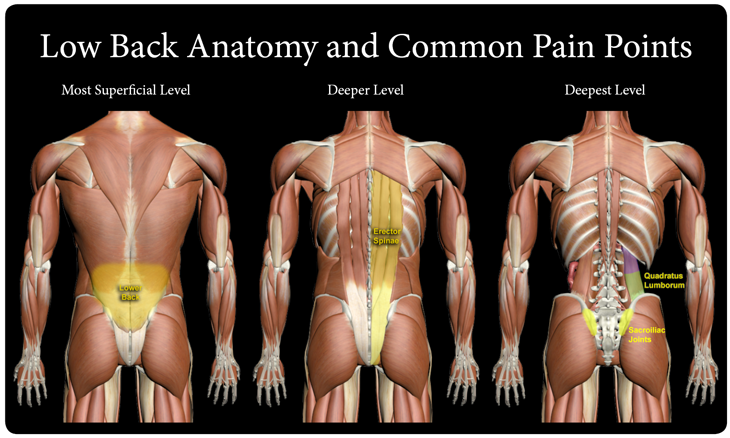 I want to take a few minutes and show you exactly what you need to know to get started on exploring your Quadratus Lumborum pain and tightness. The most important thing to look at before you go poking around is WHY your QL is not happy in the first place. 
If we can understand that then WHAT we do with that information becomes more laser-focused and result producing. Low back pain is no joke and can be very frustrating to navigate. Chronic back pain going untreated can lead to more anxiety, depression, and stress which can only make your pain worse. 
What is the Quadratus Lumborum (QL) Muscle?
Well duh, it's only the deepest level of muscles that could be the culprit to your back pain! Besides the obvious, the QL's sole purpose in the body is to connect the pelvis to the spine. On top of that the Quadratus Lumborum is also responsible for lateral flexion of the spine (think of laying on the floor and wiggling back and forth like a snake or fish out of water, that's your QL talking), and extension of the lumbar region of the spine. Another mental picture of what the QL does: Think about holding a 45lb dumbbell in your right hand and nothing in the left. It's your left QL muscle that is firing to help stabilize the spine and keep you upright.
Not only does the Quadratus Lumborum help you carry 15 bags of groceries using one hand, into the house in one trip, it also has a huge impact on lower back pain. The problem some people run into is getting a tight QL mixed up with some of the other muscles in the surrounding area. If you're not confident self-diagnosing and figuring it out on your own, go talk to one of your Physical Therapist friends and have them poke around on you a bit to muster up a better diagnosis. If you know for a fact that you do have a rather tight QL than you're in the right place.
How does the Quadratus Lumborum Muscle Get Tight In The First Place?
We have to first make it clear that there are a lot of factors that could cause tight quadratus lumborum muscles. Some pain can be chronic pain or tightness while other symptoms feel more like a muscle knot that you just can't shake.
In my experience, I have not met a single doctor, person or provider who was able to find a definitive cause for a tight Quadratus Lumborum. A lot of diagnosed tight QL's stem from a number of different things. Over tight quads and weak hamstrings along with a number of different muscle imbalances in the hip. An unbalanced hip can really set the QL off.
The thing is if you're not training in a way that will repair that imbalance than simply mashing on a tight QL won't bring you lasting relief. You have to look at the root cause.
With that being said, the most common reason (the best reasons to address first) for a tight quadratus lumborum (QL) is overuse, stress, or strain along with being too tight or weak. Now, the WHY behind these things normally comes down to habits like sitting for long periods of time without getting up and getting blood flow circulating, repetitive movements coupled with weak back muscles.
As you continue to read I will mention other factors that the things I mentioned above could also lead to so be sure to consider them all before you start addressing them. 
This combination of weak back muscles and repetitive movements (especially if you have a history of chronic back pain) can trigger your body's protection mechanism(CLICK FOR VIDEO) which only makes your tension and tightness worse. This happens because the back muscles are not doing their primary job so the body calls on surrounding muscles in the area to pick up the slack. This is when the QL muscles come in.
How To Test For A Weak Quadratus Lumborum Muscle
You always want to chat with your trusted medical provider if you have no idea what you're doing. With that being said these simple tests are super easy and can be done by just about anyone with a brain.
QL Weakness Test 1:
A simple way to introduce yourself to your Quadratus Lumborum Muscle is to test its strength by seeing how long you can hold a side plank. The QL is a big player in maintaining a neutral spine and an easy way to help build your hypothesis of week QL is to time your side plank holds.
Let's keep this simple: If on one side you can do 40 seconds and the other over a minute you might want to spend some time addressing the weaker side. If you are not sure how to do a side plank properly you can check this video out below!
QL Weakness Test 2:
Another excellent way of testing both strength and endurance in the QL is the single-arm dumbbell holds. This can both be used as a test and a strengthening exercise if you need it.
This is what you call a Buy One Get One kinda deal 😉 
With the single-arm dumbbell holds all you are doing is getting into a comfortable standing position and holding one of the dumbbells in one arm while the other arm remains empty.
Right away you should feel the opposite side of the body working to keep you upright.
That my friend is your QL.
The key to this exercise is to go heavy. How heavy you go will depend on your overall strength but as of today I am 33 years old with 12+ years of lifting experience and holding a 65lb dumbbell is a great place for me to be.
Test it out with different weights and find one that works for you. Again, if you notice one side is weaker then the other spend some time addressing this!
Here is a video of me demonstrating this as an exercise!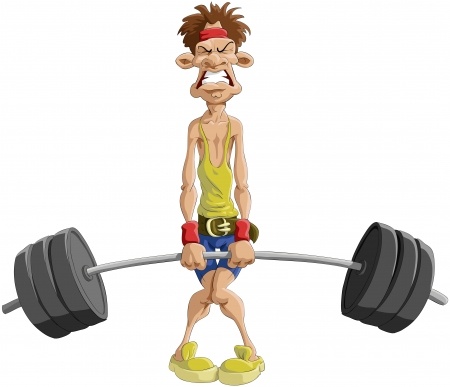 How do I know If My Quadratus Lumborum (QL) Is Tight?
If you have read this website for any amount of time it's clear that I am a strong believer in empowering the individual to take their healing into their own hands. I have been down the medical practice road and can account first hand the misguidance I was given.
I will say, before I went off on my own I had two MRIs done just so that I had a clear diagnosis of what my issue was before I went poking around. Long story short, get diagnosed from someone you trust then get to a place where you can go off on your own and start making your own decisions.
If you are anything like me you love a good self-diagnosis after doing some self-exploration so I will leave you with a simple list of common signs and symptoms of a tight QL.
7 Common signs and symptoms of a tight Quadratus Lumborum Muscle:
Your lower back pain over time develops into what seems like severe hip pain.
Over time the pain from the tight QL could translate into the groin area which could also develop into sciatica symptoms
When you cough or sneeze, your pain triples. This is normally due to the QL attempting to stabilize the rib cage while coughing and sneezing (check out the far right image above, do you see where the QL attaches going up the lower portion of the spine?).
It's been said that people constantly attempting to brace and stabilize their upper body with their hands while they stand or sit is a sure-fire sign of an over-firing Quadratus Lumborum Muscle.
Being in an upright or sitting posture makes the pain worse but most individuals will experience pain with any movement.
Rolling from side to side after laying face up for some time is extremely painful
If you're aware of one leg being genetically shorter than the other and you're suffering from back pain you could be a good candidate for a tight QL
---
Quick Note: I want to make sure you get the MOST out of addressing your tight QL so I wanted to also give you access to a private coaching video I did inside my Relief Academy
The video goes into detail on the root causes of tight and stiff muscles. It's not enough to just smash and press on muscles. The more you understand the WHY behind the stiffness the more power you have at getting more control! This video will 2X the results you get from this article.

What Does A Tight Or Painful Quadratus Lumborum Muscle Feel Like?
In my experience with tight QL's, the only way I can describe the feeling is a deep, warm kidney area pain. It's not sharp or isolated to one small area the way low back pain can be described. This is more of an area the size of a Soft Ball and for some more like a football. It doesn't send any electric shocks down the legs but it's just this insatiable ache and tightness to the left and right of each spinal erector muscle that you can't shake.
How would you describe your quadratus lumborum pain? Leave me a comment at the end of this article! 
Tight Quadratus Lumborum Muscle Release Techniques That I Use
Most people with long-standing QL pain jump right into stretching first.
Don't do this.
Most of the time if you stretch first you may feel some relief but within 24 hours it will be back. Keep this in mind the next time you want to stretch it. You always want to break up the muscle before you start stretching it.
The best tool that I have found to help release a tight quadratus lumborum is either a lacrosse or tennis ball. These are super cheap (way cheaper than paying a PT or Chiro to push on you for 15 minutes!).
Spend about 2-3 minutes on both sides moving the ball around to different areas along the QL muscle. Remember to stay calm and relaxed the goal is NOT to trigger your body's natural protection mechanism. If you go in too hard to fast your body will tense up and nothing you will do is going to bring results. Think slow with a low intensity and work up as you become more comfortable with what you're doing.
How Do You Release The Quadratus Lumborum (Trigger Point Therapy)?
The Lacrosse Ball that I used in this video is one that I actually picked up from a used sports store. To my understanding, there isn't a lot of used sports equipment stores around these days so I linked up a source that I have purchased from myself to make your search a bit easier. The link is an affiliate link so if you don't get down with those feel free to go another route.
Now that you're all warmed up, you can start playing with some of these stretches. When experimenting with quadratus lumborum stretches for yourself keep these 4 things in mind.
My 4 Rules For Stretching A Tight Quadratus Lumborum Muscle
Don't do anything that causes you more pain
Don't "push through" any pain
Go into each position slow and controlled. You should be able to breathe normally during the entire stretching position.
Hold these positions from 1-2 minutes at a time
My favorite one is the stretch at the end so be sure to try that one out!
How To Stretch The Quadratus Lumborum Muscle After Releasing it?
If you found value in this, would you do me one huge favor? Share it with the people you influence. You could really help them out! 
Addicted to your health,
William
P.S
Pick up my bonus tight ql release strategy blueprint below! I give you 3 bonus techniques you can use not mentioned in this article!